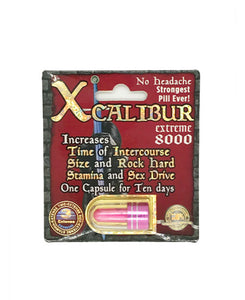 Xcaliber Extreme 8000
Fast Acting – Long Lasting
1 Capsule For 10 Days!
Time + Size + Stamina
No Headache!
1: Increase the TIME of INTERCOURSE
2: Increase SIZE and get ROCK HARD
3: Increase STAMINA and SEX DRIVE
 Benefits:
Increase the time of intercourse
Free from premature ejaculation
Better ejaculation control, no limits
Increase volume of ejaculate
Amazing increase in thickness
Increase in length, width, and stamina
Experience rock hard erections
Increase sexual confidence
Increases intense, explosive orgasms
Guaranteed enhancement
No prescription necessary
Doctor designed
Suggested Use:
As a dietary supplement take one capsule 30 minutes prior to sexual activity with water.