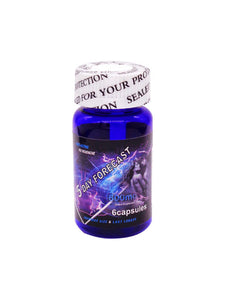 5 Day Forecast – 6 Count Bottle
Serving size: 1 capsule
Servings per container: 6
Can last up to 5 days!
Fast Acting, No Headache! Increase size and last longer!
Increase the time of intercourse
Free from premature ejaculation
Better ejaculation control, no limits
Increase volume of ejaculate
Amazing increase in thickness
Increase in length, width, and stamina
Experience rock hard erections
Increase sexual confidence
Increases intense, explosive orgasms
Guaranteed enhancement
Suggested Use:
Take one 5 Day Forecast capsule one hour before sexual activity to aid energy, libido, and sexual performance.
5 Day Forecast can also be used on a regular basis to maintain a peak condition for preparedness prior to sexual activity.
For best result take 5 Day Forecast one hour apart from taking any other supplements or medications.
Precaution:
Do not use more than one 5 Day Forecast capsule every 60 hours.
Do not exceed recommended a daily intake of  5 Day Forecast
Consult a physician if you have heart problems before taking this pill.
Stop using immediately if undesirable effects develop.
Keep 5 Day Forecast  out of the reach of children.
Store this product in a cool and dry place.
Do not take 5 Day Forecast pill with anything that may have nitrate in it.
If you are currently under treatment for ANY medical conditions, please consult your physician before taking this pill.
Proprietary Blend 1,600mg
Ingredients:
TRIBULUS, CORDYCEPS MILITARIS, GINGER ROOT, CNIDIMUM, MONNIER EXTRACT, THEOBROMINE, AVENA SATIVA EXTRACT. DON'T USE IF YOU HAVE MEDICAL CONDITIONS OR TAKE NITRATES, NITROGLYCERIN OR OTHER PRESCRIPTION MEDICINES. IF YOU HAVE HEAT PROBLEMS OR HIGH BLOOD PRESSURE.